"Know How" – Antonio Vega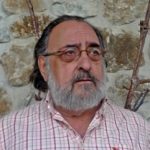 Antonio Vega, tireless nature defender and mountain lover, has a degree in Biology and Pharmacy by the University of Navarre. He has dedicated its entire extensive career to the study of herbalism and its practical application, becoming one of the biggest experts in this matter.
As a result of the gained experience, he has developed new and superb formulations based on plants. Irati Organics has benefited from his "know-how" to offer completely innovative functional products in harmony with nature.
Based on ecological plants
Josenea labor association it's a source of inspiration for Irati Organics to guarantee the highest quality in each and every one of its products. In the manufacturing process, only the best raw materials have been used: 100% ecological, medicinal and aromatic plants produced by Josenea labor association. In the Bordablanca farm, fed by the Irati River, Josenea cultivates 100% in an organic way more than 60 different varieties of medicinal and aromatic plants. Neither pesticides nor chemical fertilizers are used and special care is put in the cultivation guaranteeing the conservation of the active beginning. The plantation of ecological cultivation allows us to reach the main mission of the association. Since 2002 Josenea's main objective is to integrate in the labor market people, who find more difficulties at the time of joining the labor market.
Respect for people and environment
Irati Organic to elaborate its products uses, only and exclusively, materials that are respectful with human health. Our ecological certificate guarantees that our products are free of any aggressive chemical substances. We try to optimize the natural resources without using chemicals of synthesis or genetically modified organisms. Moreover, our products have not been tested in animals for cosmetic ends.
Forest like inspiration
The forests, ecological lungs that supply oxygen to nature world, are green seas that are kept almost in a pure state. They keep inside stories and extraordinary fantasies, as they are witnesses of magical meetings between fauna and flora. Irati Organics has chosen to be inspired by these nature reserves to wrap its products with multitude of feelings that offer a perfect harmony between nature and origin.